Art
Mural outside of Divina Providencia (chapel and home of Monsignor Romero)
Art is seen all over El Salvador. Murals are painted on many buildings telling us stories about the country. The longer they are viewed the more we start to see.
Fernando Llort
In the chapel at the Central America University Fernando Llort has created art pieces to memorialize Monsignor Romero and the struggles of the civil war. His art is very vibrant and captivating. Each piece tells a story, with elaborate symbolism. Fernando Llort is the most famous artist in El Salvador.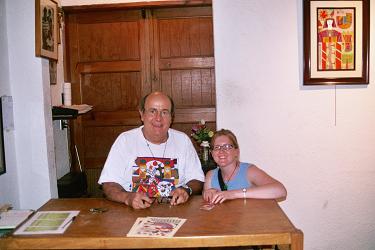 Fernando Llort and Laura
A few days after seeing his art work at the chapel our group met him at his art gallery and gift shop. By pure chance he was stopping in just as we were leaving! We were able to meet him and he signed his art work for us. He signed a bookmark and piece of art that I bought for me. To see more of his beautiful art and to read about him please visit his site.
Roberto Huezo
The story as I understood it is that Roberto Huezo was searching for missing family members during the civil war. Unfortunately, it was not uncommon for people to disappear during this time. He ended up seeing many tortured bodies; images he needed to deal with in some manner. In the Chapel at the Central America University there are several of his drawings reflecting the images to us, what he saw on those searches. The pictures are very graphic and difficult to view. But, they show what was taking place at that time. Two of those drawings came be viewed here.
This is a link for more information about art from El Salvador.