Not to be Forgotten
---
I shouldn't forget to mention that we did a lot more than preservation work. We took on an increasing number of new construction projects as well. It's hard to be challenged in this arena because everything is so predictable. But we accepted some unusual jobs, and they kept us interested. We hired supervisors to manage the more routine aspects.
---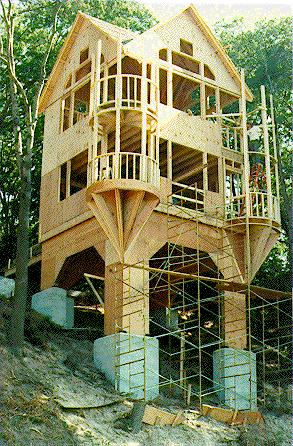 This is a "play-house" for millionaire Jeff Kerr, owner of Horizon Corporation. (Actually, I've never seen the guy play - even on Sunday afternoons when I'd stop in to work on his suite of offices he'd be there with a team of businessmen.. enjoying themselves - but certainly not playing. Work-a-holics, no doubt, but I've never seen that he suffers because of this hypothetical affliction.) We also restored the mansion up the hill from here (not seen in this photo) and installed a huge outdoor pool and 2 story bath-house.

After going on my own I worked for one of Jeff's partners on his new mansion - a log home with indoor waterfall and 18 hole golf course. All I did was provide the cedar shake roof - about 4 acres of it.
---